Shortly after Good Morning America aired a segment about one of Ashland University's sports teams, the Ohio institution received applications from 500 prospective students — enough to nearly fill out an entire freshman class.
The team hadn't recently won a championship, or even a big game. In fact, players hadn't even taken the field yet. When the athletes finally suit up this fall, they'll do so in a library basement, seated behind computer monitors and decked out in headsets, their fingers poised over keyboards and mouse pads.
Ashland is one of a growing number of institutions embracing esports, organized video game competitions that attract both students and spectators. 
The university offers gaming scholarships of up to $4,000, equips players with jerseys and high-end equipment (such as headsets and specialized keyboards) and brings in professional players and industry leaders as guest speakers. 
"We went from zero to 60," says Donald Tharp, chief information technology officer for the university.
Once thought of as child's play, competitive gaming is quickly becoming big business, and higher education is racing to capitalize on the trend. To give an idea of just how quickly esports in higher education is growing: The National Association of Collegiate Esports started two years ago with six member institutions. 
NACE now represents 104 with varsity esports programs. The majority are small colleges like Ashland, which can't compete with the Notre Dames and Ohio States of the world on the football field, but see here an opportunity to get in on the ground floor of something new.
"It is a very low-cost activity to get started on your campus," says Layne Shirley, NACE's esports director. "One reason people are making esports into a varsity program is because it's an enrollment driver, and a lot of these students are interested in STEM fields and computer science. That's why schools are taking the jump."
MORE FROM EDTECH: See how one college is using eSports to create new learning opportunities for students!
As ESports Explodes, Universities Rush to Get Involved
Ashland officials began discussing esports as a way to boost enrollment, and last fall they visited a nearby college that has a varsity program. Shortly thereafter, Ashland's board of trustees approved the program, and the university hired a coach. Tharp notes that esports programs fall under college athletics departments, just like any other sport, making it crucial to get buy-in from athletic directors and other stakeholders.
"There was a little resistance," Tharp notes. "Some faculty weren't on board, but there were other faculty who said, 'I want to engage with these students.'" Shirley compares esports to cheer and dance programs, which once faced skepticism about whether they were "real" sports. "Now it doesn't matter," he says. "Esports is the same. Whether you think it's a sport or not, it's happening, and you either get on the train, or you miss the train. There are a lot more people ready to get involved and be open-minded toward it than you would think."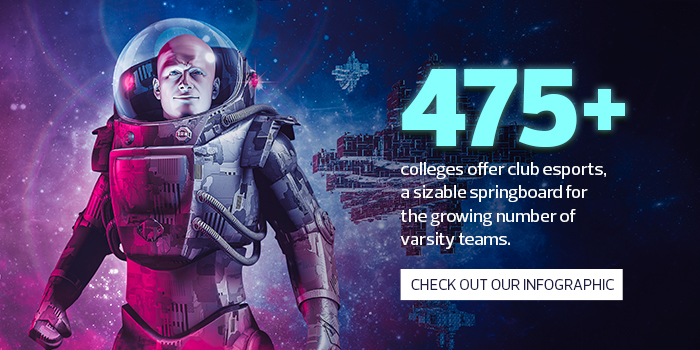 Becker College in Massachusetts will launch a varsity esports program this fall, after several years of fielding club teams. Becker's game design program is ranked fourth in the world by The Princeton Review, making esports a natural fit. The college has been an early leader in offering scholarships for the program and next fall will debut one of the country's first esports management business degree programs. 
"We have this great advantage, already having a world-class presence in video game development," says Alan Ritacco, dean of Becker's School of Design and Technology. He predicts that competitive esports will one day be more popular than pro football, and viewership statistics suggest that he's right. "It's already part of our ecosystem," he says. 
Investments in ESports Boost Student Recruitment and Retention
Officials at SUNY Canton began exploring varsity esports as a way to engage online students, who make up about one quarter of its total enrollment. Within a week of announcing the new program last fall, approximately 40 students expressed interest, both current SUNY Canton students and others around the country.